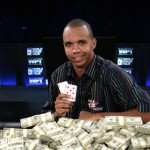 The well-known poker player accused of fraud.
The trial, which began in 2012, ended not in favor of a poker pro, accusing him of fraud during a game of Punto Banco one of the oldest casinos in the world in London — Crockfords.
Two years ago, the famous player tore a decent jackpot in London, but the administration refused to pay Crockfords prize, accusing the player of fraud. Then Ivey and decided to go into the legal framework.
During the trial, the player himself admitted that he used the method of edge-sorting that allows you to track ratings cards, drawing on the shirt. As stated by Ivy this method cannot be regarded as a fraud, since it is a flaw casino, for which the players do not need to be responsible. However, contrary to expectations, Ivy, the court rejected the application on the grounds that the player against the rules to take advantage of the casino.